Today as I was freeing my car from "snow bank" jail all I could dream about was a white sand beach glistening with heat. That brought me to scanning through beach photo archives and sharing my favourites today. Not as good as being there, but beach memories are always fun. Welcome to week 356 (1/18/2018) of Travel Photo Thursday.
To join in the Travel Photo Thursday fun simply choose a travel post from your blog.
Add a link to Budget Travelers Sandbox in your post. You can also add our Travel Photo Thursday logo.
You'll find the code in the sidebar. Return here and place your link in the Mr. Linky at the bottom of this post.
Each link is shared on Twitter and the Pinterest Travel Photo Thursday board.
Leave a comment before you go.
I do read each one and always try to respond.
Finally, take the time to visit some of the other bloggers in the link-up. Reading, posting, and sharing is what makes the link-up successful, and ultimately brings more traffic to your blog.
South East Asia Beaches
If you want fun in the sun any time of the year, then you need to head to South East Asia. I've spent more than a few December and January days on the beach in Hua Hin. The town is an easy two hours out of Bangkok, and getting there is super easy. Choices include bus (directly from the airport), taxi (not that expensive), or the train (nothing fancy but a great way to meet the locals. For me, Hua Hin is all about the beach and the food (usually eaten on the beach).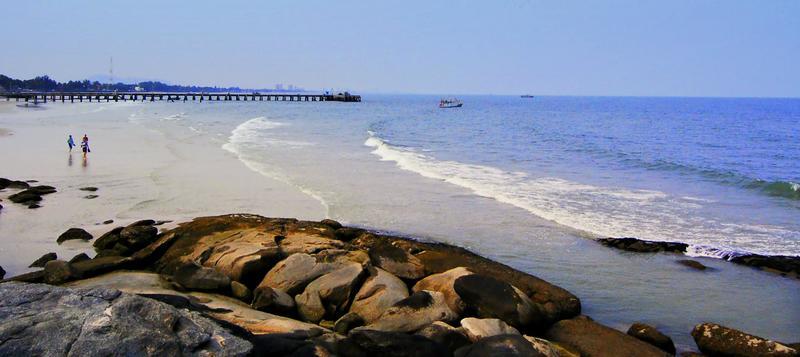 Did I mention massage? Never dismiss a massage on the beach. Some of the best I've had.
For the best beach views arrive early to claim you lounger and umbrella. Prices have probably gone up since my last visit when I would pay a dollar for the day. You will need your own towel.
Krabi, Thailand is another area known for its beaches and easy access to island getaways. This stunner was one of the stops on a day tour to the beaches off of the coast of Aonang. Tours are plentiful. Ask around for recommendations. Most tour companies are safety conscious, but you'll find the odd one intent on only filling their boats.
Koh Lanta is a two-hour ferry trip from Krabi's Aonang Beach, but totally worth the adventure. Pack light. You'll have to get your luggage on and off small boats. You may find someone to help you, but you might not. I spent two weeks on the island, steps from this beach. I only left the beach to eat and sleep. I highly recommend staying as close to the beach as you can. The town is only a short ride away, where you can treat yourself to an abundance of fresh from the ocean seafood
If you ever get tired of exploring Thailand's beaches, you can head to Malaysia where many a white sand beach also sparkles. I spent a few days sunning myself and doing some laid-back beach walking on Langkawi's Cenang Beach. Beachfront rooms can be on the pricey side. I stayed a short stroll away for a fraction of the price. Do opt for a meal at a restaurant in one of the ocean front properties. Food is ridiculously cheap and delicious.
Mabul Island, a short ferry ride from Semporna, also offers up some amazing beaches. You can also add some amazing diving and snorkeling to your beach bum schedule. The ferry leaves from Semporna, and like Thailand, you will probably have to get your own luggage on and off. Remember, pack light 🙂
Portugal Beaches
It's time to leave Sun-drenched South East Asia, although I'm sure I could post at least another 1001 beach shots taken over the years. Two winters ago I enjoyed the delights of Portugal, mostly the Algarve. Did I say, beach lovers paradise? Even though January and February are not warm enough for sunning/swimming (although I saw a few brave souls lying in the sand attempting the bronze look), they are perfect for beach walking and nosing into all the nooks and crannies.
An easy walk from Albufeira, I spent a lot of time rambling along the Praia de Oura. The views are awesome, and there was a restaurant overlooking the beach where I could sit and sip.
Praia Maria Luisa is another favourite. Further along the coast than Praia da Oura, it was a pleasant walk, and there were numerous traditional restaurants to lunch at on the way back to Albufeira.
There were days when it almost felt like summer. These paddlers were having fun on the water in the charming town of Alvor, which is a minibus ride from Albufeira.
Do you daydream about beaches when it isn't beach season? Let us know in the comments.
Please welcome our co-hosts this week: Jan from Budget Travel Talk Ruth from Tanama Tales Rachel from Rachel's Ruminations
____
You can browse the Travel Photo Thursday archives here.
_____
Please share using the share buttons at the top or bottom. Much appreciated!
Food, culture, museums, architecture, the people, and unplanned surprises are what I love most about travel. Forty countries and counting.