Ship Hector
This week we're visiting Ship Hector in the picturesque town of Pictou, Nova Scotia. Welcome to week 343 (7/9/2017) of Travel Photo Thursday. I'm enjoying my new temporary home in Pictou and it seems that Indy and I will be moving one more time before we finally get to settle into our new condo, and Annapolis Royal. Next Friday we'll be taking up temporary residence in New Glasgow, a town located about 20 minutes from here. We now have a tentative date of September 30th to move into our new home in Annapolis Royal. Fingers crossed! Join us this week to see and read all about Ship Hector and why the wee town of Pictou is often referred to as "The Birth Place of New Scotland". Did you know that Nova Scotia is Latin for New Scotland?
To join in the Travel Photo Thursday fun simply choose a travel post from your blog.
Add a link to Budget Travelers Sandbox in your post. You can also add our Travel Photo Thursday logo.
You'll find the code in the sidebar. Return here and place your link in the Mr. Linky at the bottom of this post.
Each link is shared on Twitter and the Pinterest Travel Photo Thursday board.
Leave a comment before you go.
I do read each one and always try to respond.
Finally, take the time to visit some of the other bloggers in the link-up. Reading, posting, and sharing is what makes the link-up successful, and ultimately brings more traffic to your blog.
All links are DoFollow. That means I am sharing SEO link juice with you; a good thing!
The Hector Heritage Quay
I was greeted by this traditional Nova Scotia bagpiper on the way in. Kind of cute, don't you think. Quite often there are human bagpipers to entertain guests, but not today.
Once inside a lovely volunteer took my entrance fee ($6.00 for old people seniors) :). I noticed audio guides on offer, so I asked if I could rent one. Something got lost in translation, as she proceeded to show me around the first floor. That was lovely, but I always find the recorded audio guides provide interesting historical details.
The first thing you see is the tartan of each Scottish settler who arrived on Ship Hector, July 10th, 1773. I was anxious to see this since I have recently discovered, through my sister, that our biological grandfather (surname Murray) was among those early settlers. I am assuming it would have been our great-great grandfather (or maybe great-great-great).
You can also examine a model of the ship on this level, and this guy will try to sell you some souvenirs! I love his t-shirt 🙂
Ship Hector
Then it's onto the second floor and the passenger's list. Perusing the list I quickly learned that six Murrays were passengers on Ship Hector. They appear to be two families (mom, dad, and child). This list is not an official manifest since in the 1700's passenger lists were not required. Whether or not an official list ever existed is a matter of speculation. Numerous passenger logs were compiled by settlers from the Hector and the one below, by William MacKenzie, is the most complete list in existence today, with 189 passengers. William was 18 years old when he emigrated from Scotland. He also included a sailing date of between July 8th and 10th, 1773.
You can find the complete list here.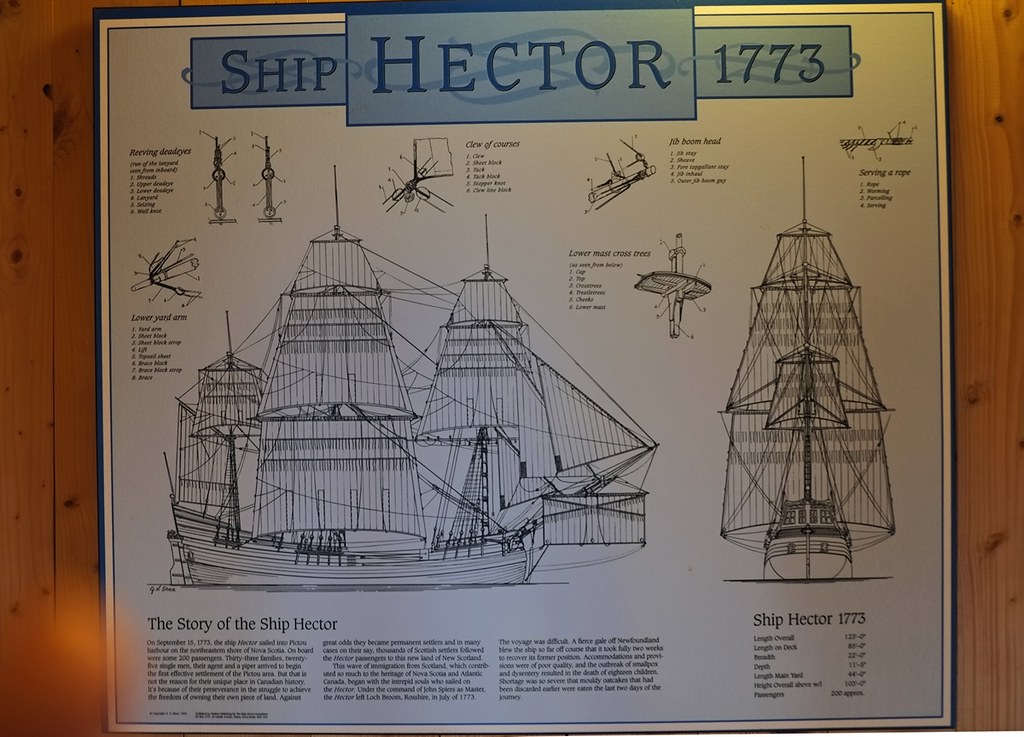 The Battle of Culloden was an important event leading up to the Scottish Highlanders embarking aboard Ship Hector to the New World and a better life.
Life was harsh in the Scottish Highlands. Farms were tiny and landlords were constantly dividing the land into smaller and smaller parcels, making it impossible for the farmers to produce barely enough to pay their annual rent.
The winter prior to Ship Hector sailing was brutally cold, so the promise of land and opportunities in the New World were enough to convince 34 families to pay passage and set off to a new life in Pictou. Conditions on the ship were harsh with bad food and squalid conditions in the hold. To further add to the misery, a major storm set their arrival back two weeks. Passengers begged the Captain to return to Scotland, but that was out of the question, and on September 15th, 1773 a weary Ship Hector landed at Brown's Point in Pictou Harbour.
The promise of fertile land with easy access to the sea (and fish) was a ruse to get the Scots to pay passage to the New World. The land was available but first, it had to be cleared of timber. The settlers were on their own to clear, build shelter, and scratch out enough food to survive their first long, cold winter in Nova Scotia.
Give yourself an hour or more to take in the displays and read the historical account of this life-changing voyage. Then, rest your feet in the audio-visual room while taking a journey from July 1773 to September 17th, 2000 when a replica of Ship Hector was launched in the Pictou Harbour. Ship Hector was a Dutch cargo ship or Fluyt ship, and the replica you see in Pictou Harbour today is the result of a decade of planning and building. This was not a launch without the interference of Mother Nature. The initial launching was postponed due to rain and wind and took place the next day after local fisherman offered a boat to tie to the front of the Hector so that she would not end up on the rocks in the choppy harbour. The jubilation felt by everyone involved is captured perfectly in the video. Watching it all unfold, I wanted to jump up and cheer!
Now, it's time to tour Ship Hector a photo from the 3rd-floor balcony.
Imagine two hundred people living on this tiny vessel for two months, and much of that time spent below the water line.
The captain's quarters are at the front of the ship and there's even a window. Today's view is a far cry from the dense timberlands of 1773.
You can also go below deck to get a feel for how the passengers lived. I passed. Small enclosed spaces give me hives. 🙂
There is a friendly guide on board who will answer all your questions and probably tell a few corny jokes for some laughs.
You can also visit John Holman's Blacksmith Shop.
There is also a fully operational carpentry shop on site, and it's open to visitors, too.
To finish the visit you enter the carving shop on the bottom floor of the Quay. All of the carvings are the work of Keith Matheson. Sometimes there is someone carving on site (not sure if it's always Keith), but the shop was empty when I wandered through.
Prince Charles and Camilla were caught here admiring this bare-chested lady. Camilla seems amused, but poor Charles appears to be a little out of his comfort zone!
If you're a history buff, or just interested in learning how the Scots came to settle in Nova Scotia, I think you'll find the Heritage Hector Quay fascinating. The Hector Quay Society volunteers have done an amazing job of preserving this important event in our history.
Do you think you could be a Ship Hector passenger descendant? 2023 is the 200th anniversary of the arrival of the Hector, and the organizers of the Ship Hector Descendant Project are looking for you. You can learn more about the project here.
The Hector Heritage Quay:
Hours of Operation
10:00am-4:00pm
May-September
Admission Rates
Adults: $8
Seniors (60+): $6
Students: $3
Children (6 and under): free
Families: $20
Group rates available for groups of 15 or more
Address
33 Caladh Ave, Pictou Nova Scotia
1h 40min from Halifax Stanfield Intl. Airport
10min from Caribou Ferry Terminal
Have you visited Ship Hector? Let us know in the comments. Do you think you could be a descendant of one of the families?
You may also enjoy Postcard Perfect Mahone Bay, Nova Scotia.
Please welcome our co-hosts this week: Jan from Budget Travel Talk Ruth from Tanama Tales Rachel from Rachel's Ruminations
____
You can browse the Travel Photo Thursday archives here.
_____
Please share using the share buttons at the top or bottom. Much appreciated!
---